Spotlight.
WatchHouse Cold Brew Coffee.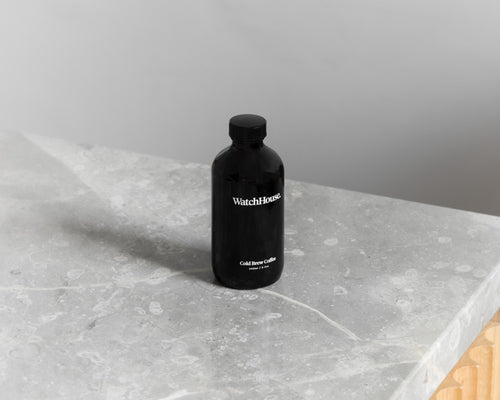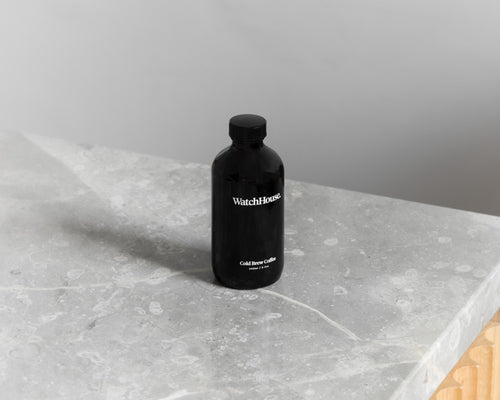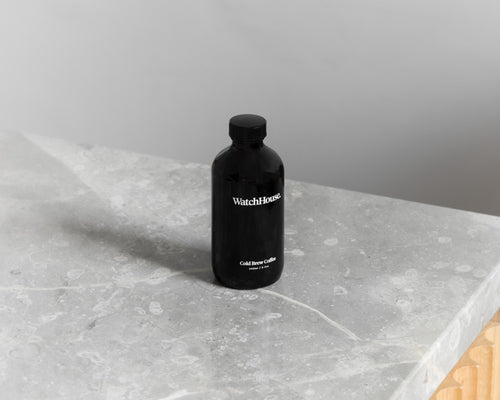 A new addition to our Modern Coffee offering.
From concept development to ingredient sourcing and packaging design; each new WatchHouse product is a collaborative effort ensuring that all the elements work harmoniously to best represent Modern Coffee.  
After testing, tweaking and fine tuning the recipe, we're proud to present WatchHouse Cold Brew. Developed and created in our Coffee Lab at 36 Maltby Street, WatchHouse Cold Brew Coffee is a refreshing adaptation of process with a commitment to great flavour.
Above: Our first batch of Cold Brew ready to bottle
Let's start with explaining what cold brew is:
Cold Brew uses an immersion method, whereby coffee is immersed in cold water to extract for a specific period of time. The process of extraction is much slower than when brewing with hot water which can result in flavours that are more gentle, naturally sweeter and less bitter. Cold brewing offers a unique opportunity to showcase the versatility of coffees, and a different perspective on their flavour profiles. 
How we do it.
As our Cold Brew is designed to be consumed chilled (which mutes flavours), or served over ice (which dilutes the drink), our brew is more highly concentrated to consider these factors. Our team uses a coffee to water ratio of between 1:10 - 1:12 depending on the aromatics of the coffee being used. We use seasonal single origin beans, filtered water and a brew time of around 18 hours - although we constantly evaluate the recipe and extraction time to get the very best out of a given coffee with each brew. 
Bottling process.
Once the brewing process is complete, we manually bottle our Cold Brew in 240ml amber glass bottles and mark them by hand with a date and batch number. The bottles are sealed and stored in our cool room before being transported to our Houses ready for you to enjoy straight from the bottle, or over ice with a splash of milk.
Above: Cold brew bottling
Cold Brew Coffee batch one coffee selection.
For our first Cold Brew batch we've chosen a coffee that might be familiar to you from inside our Houses: Kantite, a coffee bursting with tropical character. We have chosen this for our cold brew as we want to bring a vibrant and sweet version of this popular coffee style. The final brew is super peachy, with notes of earl grey and milk chocolate.   
Category. Ventures.
Origin. Ethiopia
Region. Sidamo
Traceability. Asefa Dukamo
Process. Washed
Altitude. 1600-1900MaSL
Varietal. Heirloom
Notes. Earl Grey, peach, milk chocolate
Above: Handwritten batch number and bottled date 
Our cold brew glass bottle is recyclable but can also be reused. If you return it to our Houses we recycle it for you.
Exclusively available from our Houses.
Above: WatchHouse Cold Brew Coffee over ice