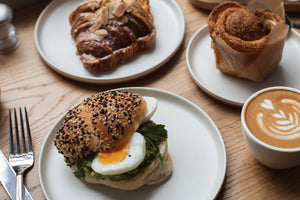 Bermondsey born.
Proudly originating in a former 19th century watch house on London's famous Bermondsey Street, WatchHouse is fuelled by a commitment to Modern Coffee: industry-leading specialty coffee, authentic homemade food, and beautifully designed spaces, each inspired by their locations. With WatchHouse.YourHouse., we now bring this experience straight to your door, too.
Coffee Collections.
We've defined all of our coffees by collections, tailored to your taste.
Each collection represents an experience; starting with Rituals - your daily cup, then journey through our single origins and coffees that push boundaries all the way through to Rarities, limited editions from the world's most acclaimed farms and producers.
Rituals.

Rituals keep us grounded and anchor us in our daily lives. They're the coffees we crave – comforting, warm, familiar.

Ventures.

Some days we seek adventure and fresh inspiration. These are times when we welcome the unexpected; a coffee that will open our minds to new possibilities.

Horizons.

Challenge your coffee preconceptions. For those moments when you're ready to dive head first into the unknown and reap untold rewards.
WatchHouse Pods.

WatchHouse pods bring you the Modern Coffee experience in a new medium, with single origin coffees carefully selected and roasted by our team at 36 Maltby Street.