Spotlight.
Monoware x WatchHouse. Our first ceramics collaboration.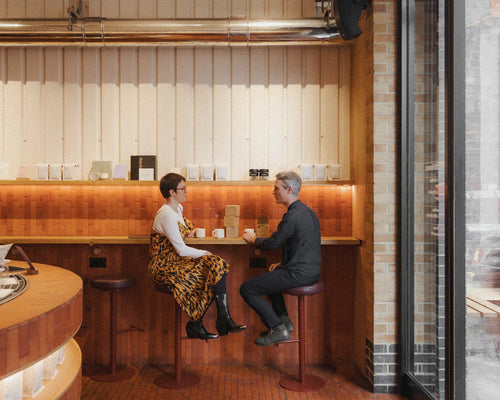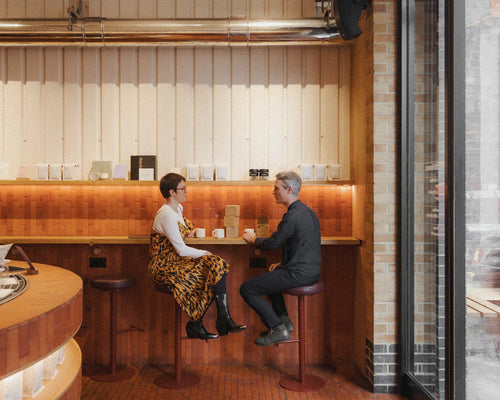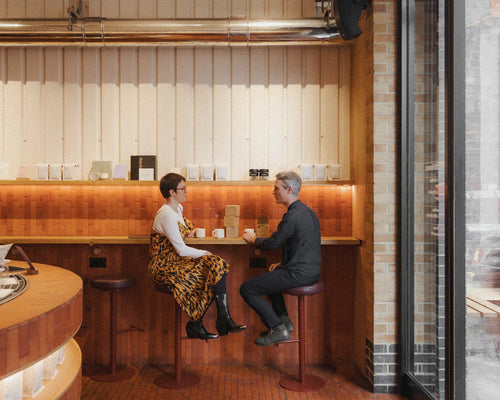 When looking to collaborate on an everyday ceramic piece that elevated the daily coffee ritual, Monoware instantly felt a natural fit.
Monoware is a British tableware brand, designing tabletop essentials that are meticulously crafted to have a place in everyday life, and make the ordinary something special.  Defined by simple, elegant forms and a natural colour palette, their vision is for timeless design and effortless adaptability.
To celebrate the launch of the Monoware X WatchHouse mug, we sat down for a coffee with Founder Daniel Baer to discover his very own dinner party of dreams, and get his thoughts on our work together.
How did you come to this collaboration with us?

We love working with businesses that share our values. When Monoware was taking shape, we lived a stone's throw from WatchHouse's first branch on Bermondsey Street, so we got to know what they stand for by being customers. Their attention to great coffee, paired with delicious food, served by genuinely welcoming staff stood them apart. Our shared ethos for a modern approach to elevate the everyday made a natural brand fit. We both saw the opportunity to collaborate on something special.
Tell us a little bit more about yourself and how Monoware came to be?

Our passion for ceramics started with pottery classes in a small studio in South East London. Once a week we would rush from work for the thrill of shaping clay into bowls and cups. We would give away most of the pieces to friends and family and grew to appreciate what was desirable and useful.
Around the same time, we were looking to upgrade our dinnerware, but were overwhelmed by fleeting trends and choices that compromised on quality and design. We felt there was a gap to serve a generation of like minded food lovers and households who consistently value timeless design and durability. That's when we decided to create Monoware: modern tabletop essentials for the everyday.
How would you define the philosophy behind Monoware?
If the table is the heart of the home then our plates, bowls, cups and jugs are the means around which stories are swapped, food is shared, lives play out. Our vision is that the pieces we craft will become fundamentals in the home; refined staples that can blend and grow with individual style and changing needs. A constant core collection means pieces can be added or replaced at any time, even years down the line. Each glaze allows for subtle variations – a nod to qualities more commonly associated with studio pottery.
What makes the MW X WH mug special?
The Monoware x WatchHouse mug has been designed with the passionate home coffee drinker in mind. Whether used for pour over or espresso-based drinks, it holds the perfect capacity and fits snugly in the hand. The mug features a soft lip for comfort and retains heat well. Working in collaboration with WatchHouse, we developed a distinct Bermondsey Biscuit glaze - a warm tone with a fine dusting of speckles and a matt finish. From high-quality production to eco-friendly packaging, we have carefully considered every detail to create a mug that will give joy for years to come.
You worked with ceramicist Ian McIntyre on the Monoware stoneware collection - how did that collaboration come about?
At Monoware, every project begins with curiosity: how can we improve the objects we use every day? Our collaboration grew from that guiding question. For each collection we partner with a specialised designer who has expertise in the material we want to work with. What appealed to us in Ian's work is the way he mixes industrial design, traditional craft skills and provenance. Crucially, he brought extensive experience working with stoneware, our chosen material to guarantee durability.
Are there any specific design challenges when creating timeless tableware?
From a design perspective the challenge was to create shapes that blend modern and traditional aesthetics. Our forms have subtle complexities, for example soft square profiles that merge into round. This detailing has enabled us to develop a contemporary language that is still rooted in familiar and archetypal forms that have withstood the test of time.
How do you set your personal perfect table top?
We firmly believe that it takes very little to create the perfect tabletop. Does anyone care if your glass is on the right, the left, or drifting in the middle of your setting, or if the cutlery is lined up correctly? The rules are to follow no rules. Take your essentials, mix them with an heirloom candle holder, layer a lacquer bowl you picked up on holiday on your everyday platter, alongside a tumbler from a flea market. The key is to set the table for your guests' comfort: for ease of eating and sharing stories.
What historical figure would you most like to have dinner with?
It would be the American designers Ray and Charles Eames, ideally at one of their infamous themed dinner parties at their LA home in the Pacific Palisades neighbourhood. Their extraordinary talent and interest in anything from furniture design, film and architecture would make for great table conversation!
Do you have a coffee ritual?
Without exception, each day starts with a race to switch on our coffee machine (a trusted ECM Synchronika), followed by the sound of our coffee grinder (currently Baratza Sette 270 but awaiting an exciting upgrade). Usually we have a medium roast in the hopper for espresso. We are still trying to master latte art. Like pottery, it often looks so easy when watching a trained professional. The first coffee in the morning is closely followed by the nursery run - and ideally a brief pause to consider how to make the most of the day ahead.