Spotlight.
Modern Coffee SeriesS1. Ep5. The Good Coffee Cartel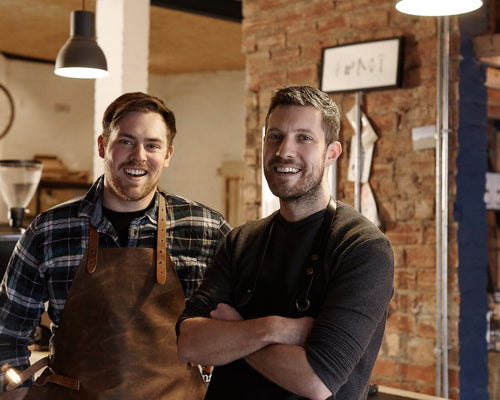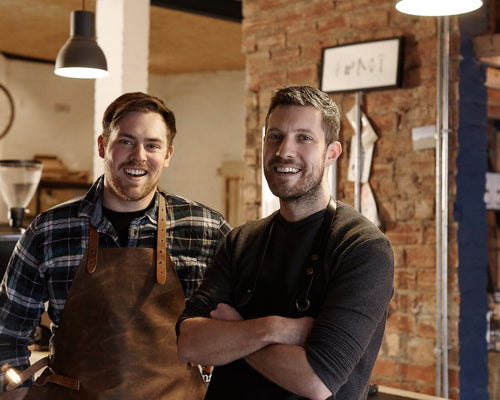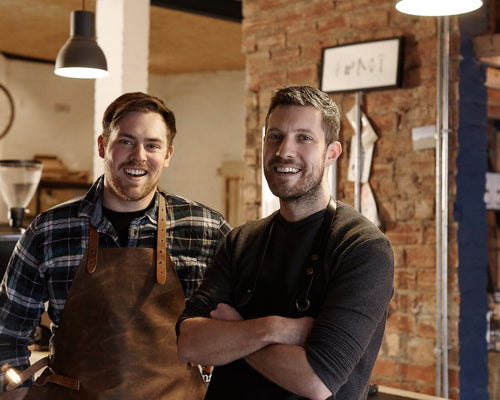 Brodie Roberts | Head Barista Spitalfields 
Boss Dudes: Todd Whiteford and Courtney Brennan 
We were fortunate enough to have Todd, co-founder of 

The Good Coffee Cartel, as a guest on our Modern Coffee Series on Instagram live. Todd and Courtney have become incredible advocates for change in the industry, operating their roastery and cafe for over 2 years with zero waste coffee packaging.
Above: TGCC founders, Todd Whiteford & Courtney Brennan
1. Was sustainability a key factor in creating your business plan?
We basically just began with intent and it evolved as we went along. The mission was to build a cool place where GOOD things could happen. Mostly coffee related, but sometimes not. Coffee was going to be the vehicle by which we could travel in tangents and cross over into creating other cool projects, but always looping back around to coffee. Our past experience in the coffee industry (and our own personal attitudes to product and 'the way things should be') gave us confidence that the coffee would always be good, and we'd do things in a forward-thinking way.
Sustainability factored in our thoughts for sure, but probably didn't make it on to paper until we slowed down a bit and reflected on the process we'd gone through to get the business off the ground. After a very short while we realised that when it came to packaging we were so sick of seeing boring brown Kraft bags and black ink that we were going to have to do a bit more thinking to change the industry here for the better. 
2. What significant changes have the company made to combat single-use items?
Funnily enough with Instagram being the favourite marketing tool of every small independent business, it's pretty easy to track the timeline of the changes we've made: January 2018 we started delivering our wholesale customers their coffee in metal pails with a ring closure and valve. We'd drop these off full each week and pick up the empties, clean them and repeat the cycle. That hit the ground running, so in February 2018 we wanted to launch it for the individual customer to have their own reusable coffee tin - they could come back to us, or go to our wholesale customers locally and refill their tin for a discount. Everybody wins. We were very happy at how that was received, and we continued to tweak the system to make it more and more efficient. We followed that by eliminating 1kg bags completely (for wholesale customers outside Glasgow) and we started shipping the metal pails up and down the UK through couriers. The benefit of metal over plastic here is the longevity - they can be shipped with no additional packaging and as long as they are secured with tags and ring closures our customers haven't experienced any problems. We're not convinced plastics would survive the same journeys over and over again.

After that we wanted to look closer to home - our own coffee shop - and taking inspiration from some of Germany's coffee shops as well as Bristol's 'Boston Tea Party' we began a reusable cup exchange, where for a small deposit our customers could have their coffee in a robust, nicely manufactured bamboo cup. The next time they visit us they can hand back the cup and either receive their deposit back or have another coffee in a fresh, clean cup. We trialed this for a week side-by-side with single-use cups and then opted to eliminate the single-use completely. A hard decision which probably cost us a few customers and a few sales, but one we're happy with in terms of closing the loop for our business as a whole. Now, a reusable cake container would be the next thing...   
Above: TGCC reusable coffee tin
3. Operating with a zero-waste objective, did you find any difficulties breaking the single-use culture?
The only difficulty is in breaking habits, isn't it? The demographic of our customers is pretty diverse, and there are some shall we say are 'more traditional'. People whose default setting is to reject the unfamiliar. With a little more effort in communication, we were able to bring them into the ethos of our business. We know we also have lost some customers who can, for example, get their coffee in a normal disposable cup with no fuss. However what we want to do is to play our part in creating change not only in our industry but many industries,  where we are moving at such speed past the viewpoint of those people that they're left with no choice but to join in or be left behind in the 'dark ages'. We'd rather be breaking new ground than trudging blindly over old ground.  
4. How do you negate the cost price between the most commonly used materials to 100% recyclable and reusable?
Our big thing when launching the tins was to purposely NOT just stick a couple of quid on to cover the cost of a tin (over, say, a Kraft bag, or 'degradable' alternative). We wanted to price for accessibility, and assume that the coffee would always be good enough to ensure customer loyalty. For example, if one customer over a year, purchases one 200g tin of coffee every week. We're not having to replace a bag each time, so even with a discount for a customer refill, it makes sense for everyone. Plus 52 bags don't need to be chucked into landfill. Scale that up by even just 1000 customers and you start seeing some real impact in the amount of waste or single-use we're putting out there.
Another benefit of well-designed products like the coffee tins is that they are something that can be put in a bag all day, they don't change shape, they won't rip, they won't accidentally pop open and when you get it refilled and bring it home the function of it has not diminished. Plus it still looks sexy on your countertop. Personally, I'm not buying that a coffee bag would be reusable in the same real-life way. It just sounds like marketing bullshit to me, because I just cannot see somebody finishing their wrinkled up bag of coffee, rolling it up, putting it in a rucksack before unfurling it to be refilled. I believe that they won't last long enough, to be reused more than a couple of times, so it's only really in theory that they are reusable.
The cup exchange is a little more problematic because it cuts into the margin a lot more - but our plan is to scale that and roll it out in Glasgow city-wide to give us a bit of buying power when it comes to the cups. 

Above: TGCC shop, based in Glasgow 
5. When researching material choices, were you ever concerned about jeopardising the 'freshness' of coffee?
Yeah, it was probably our biggest concern. Especially with being a new company, we were conscious that we wanted people's first impression of our coffee to be hugely positive and we didn't want our material choice to affect that. We approached this with rigorous testing of all our different packaging options (as well as the Kraft bags we were transitioning away from) over days and weeks to taste test the freshness of the coffee over time. We were satisfied that the difference, if there was one, was undetectable to our palate and that was good enough for us
6. Are you able to track the movement of any waste once it has left the roastery?
Maybe not as much as we'd like. Like any other business, we separate our recycling from non-recycling and get our bins out on the right days. We're placing trust in the commercial waste companies to do their jobs properly - but there is a lot of noise right now about whether the stuff that goes to recycling is actually recycled or not. Still waiting for Louis Theroux to do a full in-depth documentary about it. Chaff from roasting coffee and any spent coffee grounds from the espresso machine are collected by local gardeners. The next thing we as an industry as a whole would be to actively request zero waste shipping from the companies that WE order from. The amount of cardboard that we receive at times is a problem. By applying pressure in the right areas we might be able to influence other industries than our own. That would be the plan anyway. 
Sometimes consumers want less choice rather than more. Businesses need to be a positive catalyst for change and we can do this by choosing the products we make available for consumers to buy. It doesn't end there, push for transparency with your local council and recycling company, track your waste. Pick up rubbish on the street, don't drive a car in a city, help keep our planet clean and make a choice. 
Above: TGCC Probat roaster
Sometimes consumers want less choice rather than more. Businesses need to be a positive catalyst for change and we can do this by choosing the products we make available for consumers to buy. It doesn't end there, push for transparency with your local council and recycling company, track your waste. Pick up rubbish on the street, don't drive a car in a city, help keep our planet clean and make a choice. 
Sustainability is not mainstream or a niche. Don't be afraid to talk about single-use take away cups and the rubbish on the street. We must encourage conversation on uncomfortable topics in order to see change.