Spotlight.
Bailies Coffee Roasters | Companion Coffee 006.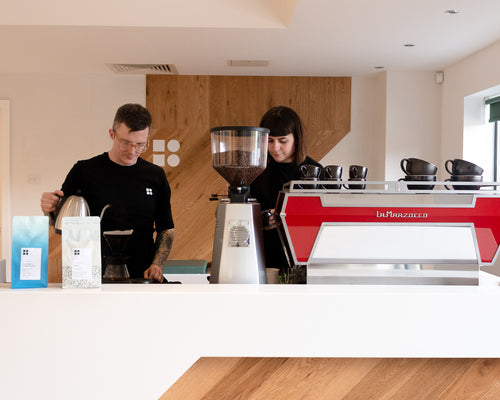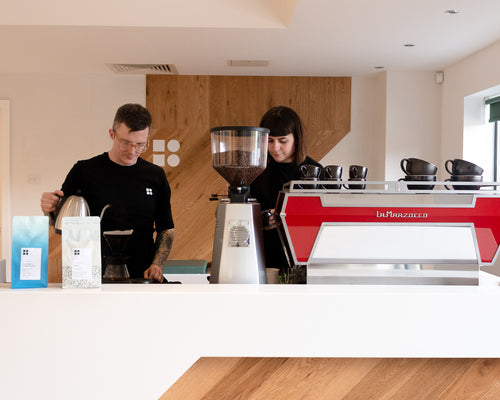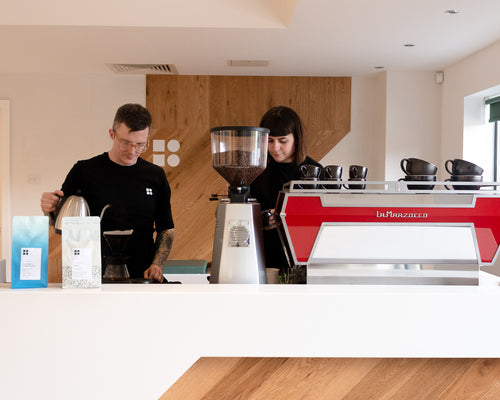 Companion Coffee 006.
Founded by Russell Bailie over 20 years ago Belfast-based Bailies Coffee Roasters have always approached coffee in a holistic way, understanding the importance of investing in every step of a coffee's journey from seed to cup. From the beginning that has involved supporting clients and cafes with training, education and engineering services. As the business has grown this has also manifested in a commitment to direct trade with coffee producers and partners across the world.
Over the past two decades, Bailies have dedicated themselves to visiting origin and forging long standing, ethical and equitable relationships with producers of some of the world's finest coffees. This kind of relationship building supports producers in developing the quality of their product and processing techniques, while giving roasteries direct understanding and access to the front line of experimentation and development within specialty coffee.


Introducing Volcan Azul.
Our guest selection from Bailies is a celebration of this commitment to direct trade, produced by their long term partners at Volcan Azul farm, Costa Rica. Located on the slopes of the Poás Volcano after which the farm takes its name, Volcan Azul is run by 5th generation farmer Alejo. The knowledge and skills passed down over time is reflected in the farm's incredible diversity of varietals including many unique micro lots, and the extremely high quality processing that happens on site.    
The farm has currently planted 40 different varieties of Arabica coffee trees, which gives them unique flexibility and diversity in terms of the flavour profiles on offer. They are particularly skilled at matching specific varietals with the right microclimates of the land, and processing methods, unsurprisingly resulting in many award winning cups.
The Companion.

We've paired Volcan Azul with the amazing honey processed Aponte; a coffee we return to whenever we have the opportunity to, as it has been one of the most consistent cups on our table since we started roasting at 36 Maltby Street. 
The Inga community of Aponte who produce this coffee are descendants of the ancient pre-hispanic Incas of the region. Throughout the 1990s, their contact with the rest of Colombia was fraught with crime and violence, forced by guerrilla groups to use their mountain homeland for illegal plantations. Over the past decade, the mountains have become a safe zone for the Inga people, and illegal crops have given way to coffee production. The Caturra varietal has been planted across Inga territory at an average elevation of 2150 MaSL, which combined with nutrient-rich volcanic ash makes for an exceptionally sweet and complex coffee.
The Coffees.
Origin: Costa Rica
Process: Natural
Variety: San Isidro
Tasting Notes: Apricot | Almond | Madagascan vanilla

Origin: Colombia
Process: Honey
Variety: Caturra
Tasting Notes: Stewed apple | Winter spices | Caramel