Spotlight.
Modern Coffee SeriesS1. Ep1. Ally Coffee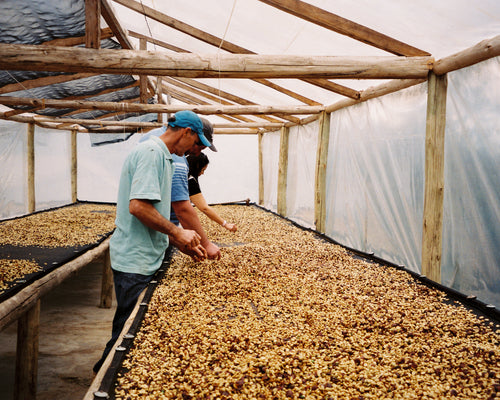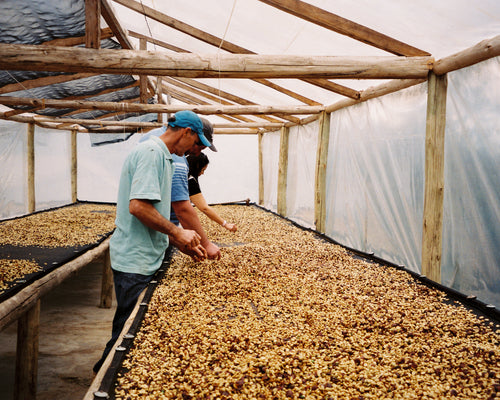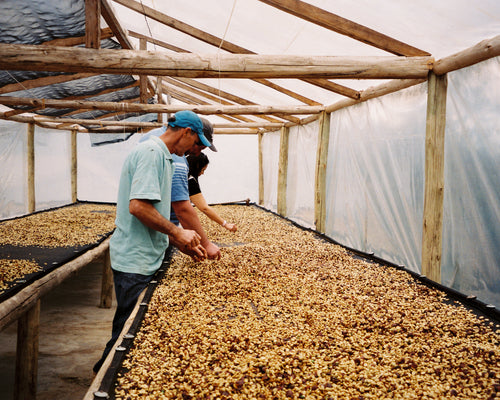 Brodie Roberts | Head Barista Spitalfields 
Modern Coffee Series | S1. Ep1. Ally Coffee // Ed Anderson Brown 
" We're moving coffee forward" - Ally Coffee
Ally Coffee is a green coffee company connecting roasters with specialty coffee sourced through sustainable partnerships. Ally Coffee pride themselves on 'only selling coffee they love' as well as building an open community around inspiration, knowledge and guidance. Founder Ricardo Tavares transformed his passion, starting out working in his father's commercial coffee roasting business in Brazil to connecting communities and producers with the wider world. Having successfully created a platform that has teams based in the United States, Europe and at origin, Ally Coffee is a business we can all learn from. 
We spoke with London based UK account manager Ed Anderson Brown in our Instagram Live Modern Coffee Series and asked all things coffee. Ed has been working in the industry for roughly 6 years and is well respected within the coffee scene so naturally, we had so many more questions to ask:
1. What is the job of a green coffee importer? 
We connect with coffee producers across Central and South America as well as Ethiopia in order to find great coffee, support coffee producers, manage the logistics and supply chain of coffee so that you are able to get great coffee at your roastery door efficiently and safe. 
2. How does your/Ally's buying impact the lives of coffee producing communities?
We are able to put quality premiums in place for all of our coffee. By doing so coffee producers are paid far more for their coffee than what a commercial price would usually gain them. By doing so we get to re-invest into local economies and support a strengthened supply chain. 
3. How often do you or your team visit coffee cooperatives?
Happily we have people working in the countries we buy from all year round. They operate out of Brazil, Costa Rica, Colombia and Ethiopia and are able to manage our supply chain by staying in conversation with our producing partners. We, on the consumption side of the chain, are able to visit once per year to each country. It's incredibly valuable to physically see and interact with the producers whose coffee we are sharing across the world. 
4. What issues in coffee do you believe are often neglected or missed?
Especially now in such a contentious time, the two factors I am watching closely are currency valuation and border closures. Currency valuation has a huge impact on what a smallholder coffee producer gets paid. The commodity price is listed in futures on the dollar but most coffee producers are paid in the local currency, so if the local currency fluctuates downwards that creates a large impact on what is paid directly for the coffee. Happily, we are able to manage that fluctuation and pay a fair price accordingly and not take advantage of this, that is not always the case for the wider commercial market, however. For the closure of borders, there is an ongoing impact of the availability of coffee pickers. Take Costa Rica for example, a lot of pickers are migrant workers from neighbouring countries. If there is an added difficulty in making this workforce available then coffee producers might have to compromise either on coffee quantity or coffee quality in order to get their crop to market. ⁠ 
5. Do you have a favourite project or memory from Ally? 
In Amsterdam World Of Coffee 2018, it was my first year working with Ally. I was able to arrange a meet-up with a roaster we sell to and the producer who grew the coffee that we sold to the roaster. We all sat together talking about how we fit into the supply chain while drinking the coffee grown by that producer. It was very fulfilling to be able to connect both ends of the supply chain and lower any barriers of connection between people involved in consumption and production.  
6. What inspires/drives you to work in the coffee industry? 
The coffee industry is filled with lots of passionate and driven people, I find that very infectious and pushes me to be better. As a wider goal, I hope that by working with roasters on their speciality coffee offering I can help grow the demand for value added and premium based coffee in order to get coffee producers a better value position in the supply chain. 
7. You used to be a barista and also roasted coffee, how did you get involved with Ally Coffee? 
One of the roasters I used to work for was invited to Brazil by Ally Coffee in 2017. I'm still good friends with the owners of the roastery and we were catching up one day. He said they were going to Brazil and there was an open space if I wanted to visit. I'd never been to a coffee producing country before so jumped at the chance. I then spent 2 weeks side by side with my now boss, we spoke a lot about the coffee industry and what it was like in the UK. At the end of the trip he asked if I would consider opening the office in the UK. Getting further into the supply chain was the next stage I wanted to take so I leapt at the opportunity.
8. What's your favourite brew method and why? 
I love the Aeropress. I enjoy coffee with weight and texture but that is clean so an immersion brewer with a filter is my ideal. It's also great for scaling coffee up and down, if I want to get 150ml or 250ml of coffee, I can. 
Website: www.allycoffee.com
Instagram: @AllyCoffee